| | |
| --- | --- |
| HQ | Borehamwood, Hertford, United Kingdom. |
| The founding year | 2012 |
| Min withdrawal | $150 for publishers |
| Customer support | Yes via email (Support@OfferToro.com ) |
| Price | Free (no in-app purchases) |
| Active Users | 5M+ |
| Monthly conversions | 1m+ |
| Website | www.OfferToro.com/ |
Pros and Cons
| | |
| --- | --- |
| Pros | Cons |
| Legit monetization platform that pays. | Payments are made monthly on a net-30 base for publishers. |
| Multiple innovative monetization tools. | Limited payment methods for cashing out (PayPal and bank transfer). |
| User blocking and unblocking tools. | A minimum withdrawal threshold of $150 for publishers. |
| Availability of both SDK and API integrations. | Few or no surveys in some regions/countries. |
OfferToro in a Nutshell
OfferToro is an advertising and monetization platform. The company was founded in 2012, with its headquarters in Borehamwood, Hertfordshire, UK. Its primary monetization tool is the OfferToro offerwall which provides a convenient way for site and app developers or owners to monetize their apps and sites.
An offerwall is a dedicated space within a mobile app or site that displays multiple offers or advertisements. Think of it as a mini-store inside an app where multiple offers are made available for app users to access at their schedule. These offers or tasks give app users incentives or points in exchange for completing specific actions, for instance, watching a video ad, playing a game up to a certain level, downloading an app, etc.
OfferToro also provides other monetization tools, including rewarded video, API, interstitials, surveys SDKs, and stand-alone offers. With such innovative tools, app publishers can tactfully monetize their traffic and earn great commissions. This guide will walk you through the monetization tools available with OfferToro and all the other necessary details that you need to know to make money as a publisher.
OfferToro Monetization Tools
Mobile ads come in several different formats. Publishers should carefully select the most appropriate ad formats or monetization tools. This is important as it can significantly affect the revenue and overall effectiveness of the site/app monetization.
Below is a list of the monetization tools publishers can utilize when using OfferToro (at the time of writing this guide) and a brief description of each follows:
offerwall (Mobile offerwall SDK, Desktop offerwall)
Rewarded video
Interstitials
Application Program Interface (API)
Surveys SDK
Stand-alone offers
OfferToro's Offerwall
The OfferToro offerwall provides an advertising space within an app or website for advertisers to showcase their products and services to potential customers or even get opinions about their brands. In turn, app developers (called publishers on OfferToro) get an opportunity to monetize their apps and allow their users to earn virtual currency for complete different offers.
OfferToro provides a mobile offerwall (iOS and Android) and a desktop offerwall for its publishers. In this space, users can select the actions they want to complete from the list of available tasks.
OfferToro's Rewarded Video
Rewarded videos are another monetization tool on OfferToro that publishers can use. These are simply full-screen video advertisements for which users can watch and receive an in-app reward. They are popular in mobile games, where users can earn coins by watching full-screen advertisements.
These ads are typically 15-30 seconds long, and users who have opted in cannot skip them. Depending on the type of app, such rewards can enhance the user's experience. Advertisers, publishers, and users all benefit from OfferToro's rewarded videos. Advertisers have more time to market their brand, publishers earn more revenue, and users get a better app experience or, in some cases, money.
OfferToro's Interstitials
Interstitial ads are similar to rewarded videos in that they take up the entire screen space. However, interstitial ads can either be in form of a video or a static image. Such ads typically
appear when a user performs an action, such as switching from one app section to another, clicking a button to begin a new level in a game, or even just before returning to the home screen.
Unlike rewarded video ads which are unskippable, interstitial ads force users to watch for a limited time (often seconds) then an "X" symbol emerges allowing users to close the ad if they wish to and continue with whatever they were doing on the app. Interstitial ads are considered non-intrusive and have no negative impact on the user experience because they are easy to exit.
OfferToro's Application Program Interface (API)
The OfferToro API is more of an indirect but handy app monetization tool. The API is a clear set of instructions or protocols to display ads on your app effectively. Think of an API as a recipe.
The OfferToro API doesn't add any unnecessary weight to your app which can compromise the experience for your users and generally have no compatibility issues with your app's code. App developers can also customize ad formats to suit their apps, for instance by asking for custom-size images.
OfferToro's Surveys Software Development Kit (SDK)
Survey Software Development Kits (SDKs) are also an indirect monetization tool that helps with easy integration. It powers surveys in publishers' apps and acts as a gateway to the preferences and perceptions of an app's users.
OfferToro's Stand-Alone Offers
OfferToro also offers stand-alone offers or ads. These ads can be utilized by publishers who want them as the only mobile ad revenue generator instead of having extra banner ads.
Integrating the Various Monetization Tools Offered by OfferToro Into Your Apps
Publishers often have to adjust their apps to work with a monetization network like OfferToro. Fortunately, OfferToro makes it an easy task to do for app developers. The company provides all the information publishers require to integrate the various (but appropriate) OfferToro monetization tools. It's essential to double-check the monetization tool for your app to ensure it matches the monetization tool required by the integration. If the integration is performed with the incorrect monetization tool, the chances of failure are high.
Below are the integration tools and information provided by OfferToro.
OfferToro iOS Software Development Kit (SDK)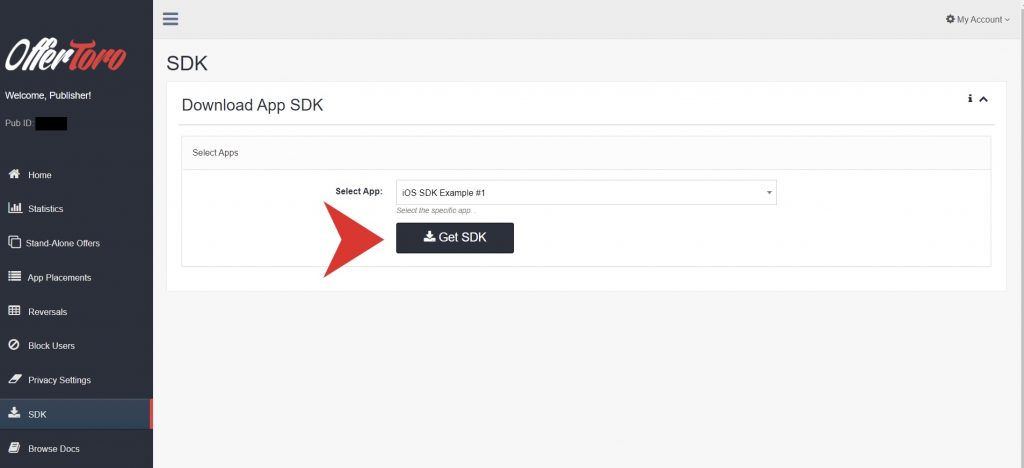 The OfferToro iOS SDK is meant for iOS developers. It makes it simple for them to incorporate the OfferToro offerwall into their iOS apps. Before incorporating the iOS SDK into their apps, publishers must first register for a publisher's account on the OfferToro platform and create an app placement. The OfferToro iOS SDK is compatible with iOS versions 8.0 and higher and is available for download in the publisher account's SDK section.
OfferToro Android Software Development Kit (SDK)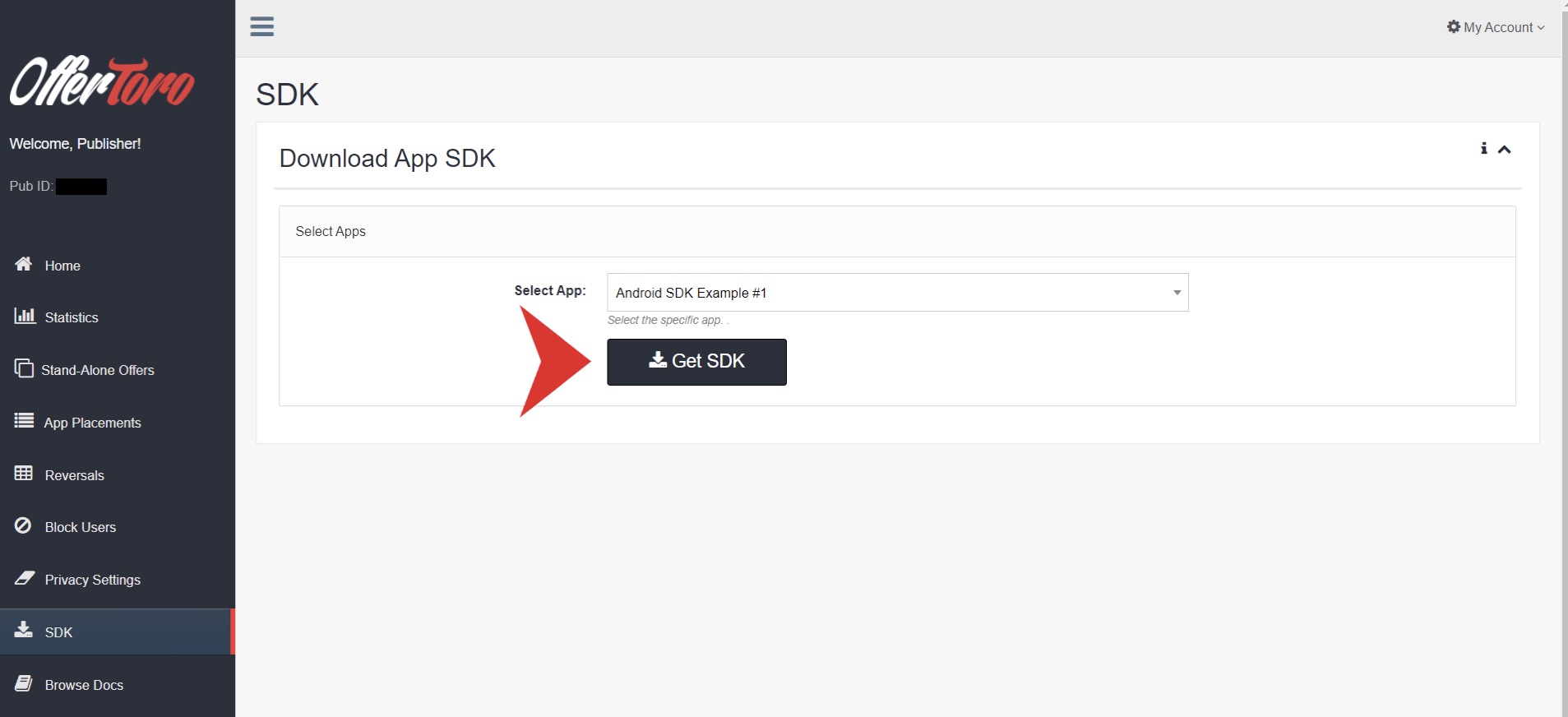 Like the name suggests, the OfferToro Android SDK is utilized by Android developers. It allows the android app developers to incorporate various monetization tools into their native projects. These monetization tools are the OfferToro offerwall, non-incent offerwall, rewarded video, and survey wall modules in their native Android apps. The only requirements for publishers to integrate the OfferToro Android SDK into their native mobile apps are:
Signing up for an OfferToro publisher account.
Creating an app placement.
You can find the SDK in the publisher account's SDK section.
OfferToro Unity Software Development Kit (SDK)
Unity developers can integrate the OfferToro offerwall module into their apps using the OfferToro Unity SDK. The OfferToro Unity SDK is available for download under the SDK section. At the time of writing this guide, OfferToro only provided an Android version of the Unity SDK, which requires at least Unity 5th version. Just like with the other integration methods for monetization tools, publishers must create both a publisher account and an app placement first.
OfferToro API
Conversion rates are typically high when app users resonate with the ads and tasks available to them. For instance, for a cooking app, users are more likely to engage with a cooking-related ad than one about sports. More conversions benefit the three parties: advertisers who meet their advertising goals, publishers who earn more revenue, and users who engage with content that interests them as they get rewards.
And that's where OfferToro's API comes in handy. It enables publishers to automatically pull specific offers and display those relevant to their business. Publishers using OfferToro's mobile SDK or the web offerwall don't have to use the API. But, if the publisher needs to pull specific campaigns into their apps, then they can use OfferToro's API.
OfferToro Publisher Account Creation
As discussed above, publishers must create an account before using the OfferToro network. In most cases, the account registrations are processed immediately but can sometimes take up to 48 hours. Here is what you need to know about the OfferToro publisher account sign-up:
Visit the OfferToro website and click on the 'Register' button.
Enter all the required details.

Company, website, or app name
Contact person
Email address
Country
Instant manager (Skype or discord)
Phone
Website link
Brief description of your business and traffic

Check the confirmation link from your email to finalize the sign-up process.
Log in to the publisher's account and familiarize yourself with the homepage.
Update your information, for instance, payment details, as you await account activation, which can take up to 48 hours. No offers are available when the account is under review.
Create an App Placement
The next step in monetizing an app with OfferToro is to create an app placement after creating a publisher account. This is done by clicking the App Placement section on the publisher's account dashboard.
If a publisher wishes to include multiple apps, it's essential to keep in mind that each app can only be used for one platform or monetization tool. Create one App placement per platform (web or mobile) and select the appropriate monetization tool. A publisher must complete the app placement form, which requires the following details:
App Name: App/game/website name.
App URL: The website or app's URL.
Taking Charge of Your App's OfferToro's Offerwall
Publishers can retrieve personal information about their users using the OfferToro Privacy Panel. The tool is also useful if the publisher needs to block or unblock a user from using the offerwall for any reason. To access all of the OfferToro Privacy Panel's features, navigate to the "My Account" page and click the "Request Access" button.
After doing that, it can take up to 72 hours for the OfferToro team to approve the account for full privacy settings management. It's worth noting that only the publisher has access to the users' privacy information.
OfferToro's Offer Service Notification
Offers can change at any time on OfferToro. To ensure publishers are up to date, the platform recommends that users subscribe to the notification service. Once subscribed, OfferToro sends email notifications in case an offer is paused or reactivated. Notifications are also sent if the offer payout and cap have changed.
Publishers can subscribe to OfferToro's offer notifications by navigating to the 'Offers Gallery' and selecting the 'App Placement'. Then, a list of all available offers will be displayed. To subscribe, select the box next to the offer and untick the box to cancel the subscription for email notifications. Publishers can also subscribe to offer notifications by ticking the 'Enable Notification' box through the offer view section.
Keep in mind that the offer notifications are sent to the email address that's logged onto the platform by default. However, it is possible to change the email address under 'Account Infor'.
OfferToro Postback Notifications
This is probably one of the best parts for publishers. Confirmation of a user conversion! OfferToro sends the publisher a URL request with some details, known as a 'Server to Server Postback.' Publishers use that information to reward users who completed the action as required.
OfferToro Offer Promos

Publishers can use offer promos to promote any offer on the offerwall that they want. This is done by either of the following or both:
Adding a promotion visual badge to the offer
Increasing the incentive
Offer promo adjustments are set for a specific time period and publishers can also select target countries. Follow these steps to access offer promos:
Navigate to the Offers Gallery
Choose the appropriate app
Click on the offer you want to promote to open the offer page
After opening the offer page, click the "Change" button to access the settings and provide information for all the required field. Then click the save button when done.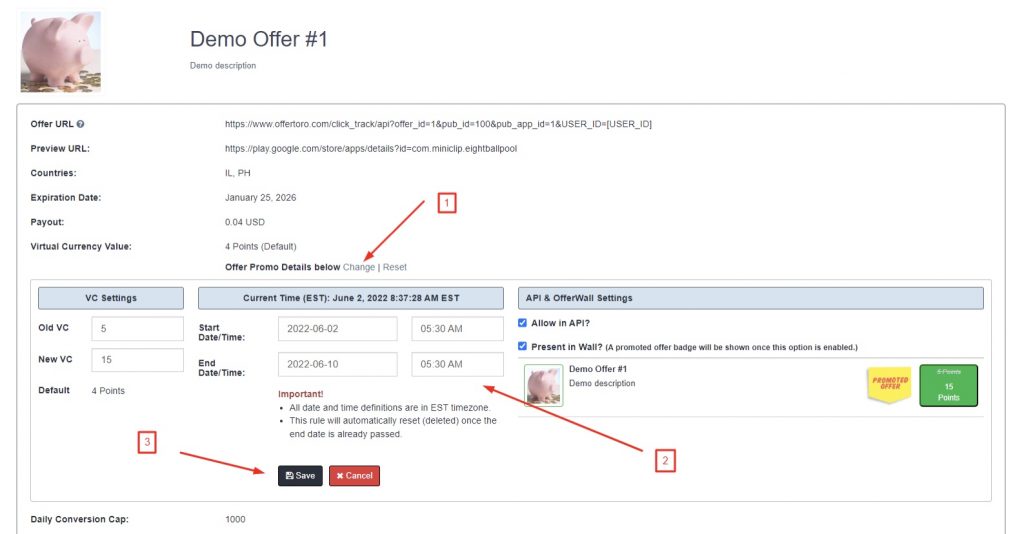 When changing the settings for the offers to create an offer promo, note the following:
Old VC is the old reward points the user will see.
New VC is the new virtual currency the user will see.
This way, the publisher sets the amount to reward their users for converting the offer.
Start Date/Time is the starting time and date for the promo in the EST timezone.
End Date/Time marks the closing of the promo in the EST timezone.
OfferToro App promos
Publishers can use the App Promo feature to increase the amount of app currency that users see. These changes are only temporary and can be limited to specific countries. App Promos can be found under App in the Overview section of the publisher's account.
OfferToro Withdrawals
OfferToro pays publishers once a month on a net 30-day basis. Payments are done through either PayPal or bank transfer and the minimum payout amount is $150.
OfferToro Customer Support
OfferToro offers customer support via email only. The support team also handles issues relating to users, such as answering support questions and offering guidance on task approval issues. This takes some burden away from the publisher. The customer support email is Support@OfferToro.com.
Our final thoughts on OfferToro
OfferToro is a great advertising and monetization platform for site and app owners. It provides several monetization tools to help its partners choose what works best for their sites and apps. The platform also offers easy-to-use integration tools and instructions that even non-technical persons can follow and successfully create a revenue stream.
The company has been in existence since 2012 which gives it a relatively long history of working with advertisers and publishers.
QA
What is OfferToro?
OfferToro is a company that provides advertising opportunities for brands to reach out to potential users and monetization tools for publishers who want to earn some revenue off their site/app traffic. The company was founded in 2012 giving them a significant amount of time in the ad and monetization field.
Does OfferToro provide prompt customer support?
OfferToro provides customer support via email. Both publishers and their users can email OfferToro's support team at Support@OfferToro.com to get help on issues relating to offerwall, other monetization tools, account creation, app integration, missing rewards, and so on.
There's no guarantee of prompt customer support but OfferToro usually responds to any issues sent to the support team's email eventually.
Is OfferToro legit or is it a scam?
From its relatively long history in the ad and monetization field going back to 2012, tools offered, and individual publisher reviews, our team believes that OfferToro is legit and OfferToro is not a scam.
Does OfferToro pay publishers on time?
OfferToro has a history of putting revenue in the hands of its publishers and their users. Publishers cash out via PayPal or bank transfer once a month on a 30-day net basis. To cash out, a publisher needs a minimum of $150 dollars on their OfferToro account.
Do publishers experience chargebacks with OfferToro?
OfferToro boasts of minimum chargebacks or reversals but definitely, a few may occur here and there. Reversals can take up to two months to appear on the publisher's account. Most chargebacks result from users who use proxies when completing actions or those who engage in fraudulent activities to fake offer completion.
Publishers can access such data of their chargebacks via the homepage.
How much money can you make with OfferToro?
The overall income publishers can make on OfferToro is not a straightforward answer. That's because a publisher's total revenue on OfferToro can be affected by a number of factors which includes:
Profit margin the publisher sets in an attempt to offer competitive rewards to users.
App or site traffic.
Conversion rates.
Available offers for users to complete, etc.
Can I block a user from using the OfferToro offerwall on my app/site?
Yes. A publisher can block (or even unblock) a particular user from accessing the OfferToro offerwall using the publisher's app or site. A publisher can have varied reasons for blocking a user for instance:
Users who repeatedly cause chargebacks.
Privacy reasons.
What monetization tools does OfferToro provide?
OfferToro provides various monetization tools for publishers which includes mobile and desktop offerwalls, rewarded video, interstitial ads, surveys, and stand-alone offers. However, OfferToro's main monetization tool for apps is its offerwall.
How can I get a publisher account approved on OfferToro?
Signing up as a publisher on OfferToro is a straightforward process. Just complete the form details after clicking "Register" on the website. However, the simple straightforward process doesn't guarantee the account will be approved. The verdict can take up to 48hours.
To maximize chances of account approval write a clear and concise business and traffic message when completing the form details. An account will most definitely be approved if the business is related to the existing advertiser offers and has high-quality traffic.
What is OfferToro's minimum threshold for cashing out?
OfferToro's minimum threshold for cashing out is $150 for publishers. They can cash out via bank transfer or PayPal.
How do publishers make money on OfferToro?
Publishers primarily make money on OfferToro by monetizing their traffic. Their users complete different actions for rewards and the successful conversions make the publishers earn a commission.
What are OfferToro post-back notifications?
OfferToro post-back notifications are alerts sent to a publisher whenever users complete a conversion. The company sends the publisher a URL request with some details, known as a 'Server to Server Postback.' publishers use the details on the notification to reward conversions that have been carried out appropriately.
What is OfferToro offer service notifications?
OfferToro offer service notifications are alerts sent to publishers every time offers are paused or reactivated. Alerts are also sent when offer caps and payouts change.
Where is OfferToro based?
OfferToro headquarters are based in Borehamwood, Hertford, UK.